Amazon is the most trusted company. Facebook is the least trusted company.
In a recent survey, some 27 percent of Americans said they trusted Amazon the most and 40 percent trusted Facebook the least with their personal information. On the flip side, 3.8 percent trusted Facebook the most and 7.7 percent trusted Amazon the least.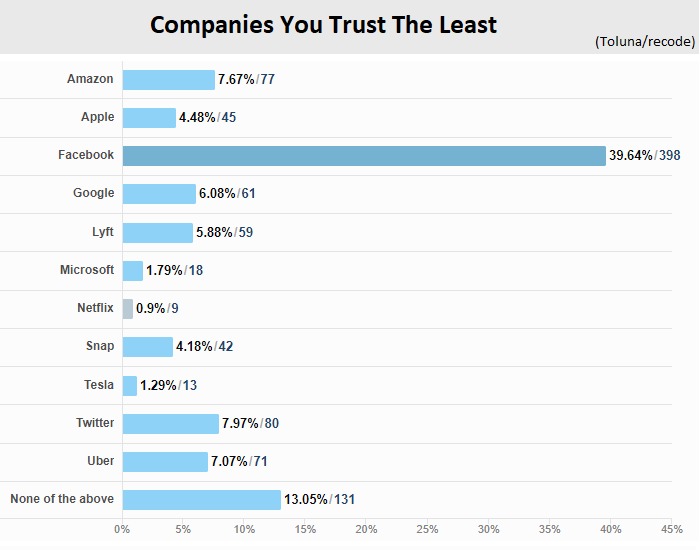 The Trust Losers
Look at the results! Facebook isn't only the least trusted, they are almost five times worse then runners up Twitter, Amazon, Uber and Google.
Tight security is more essential than ever for digital brands, and we all know about Facebook's bad publicity and data breaches last year. Still they remain a vibrant village square: a place to be present, to connect and to promote. Pretty much every business or business owner at least dabbles in Facebook, right?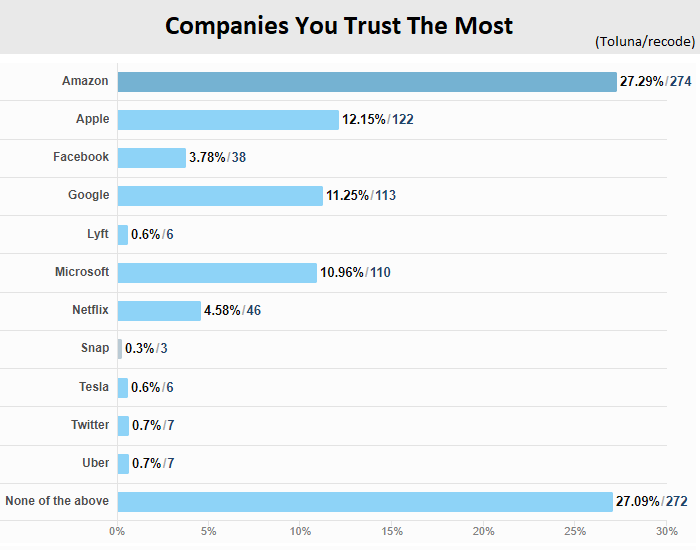 The Trust Winners
Hello, Amazon! Since this survey probes consumer attitudes, Amazon's e-commerce prowess may explain their gold medal performance. Interestingly they are more than twice as trustworthy than Apple, Google and Microsoft.
As a retailer, Amazon may count as your supplier, partner, channel or competitor. We know that shopping behaviors are used in the algorithmic stew to recommend and position your products. Even so, they are trusted by consumers and are another key channel for businesses of all sizes.
What does a reputable brand mean to you? Do you consider consumer privacy important? #ReputableBrand
by Debby Richman, Jan-3-2019