Welcome to IntellaSphere! If you just registered and are looking for guidance setting up your account or a new client account, you came to the right place. This guide is intended for the account's System Admin, and will help you get going with all the major components of the IntellaSphere platform.
⚙

Set Up Your Account

Register at app.intellasphere.com

Go to Settings and add your Company Info (Settings > Account Setup > Company Info).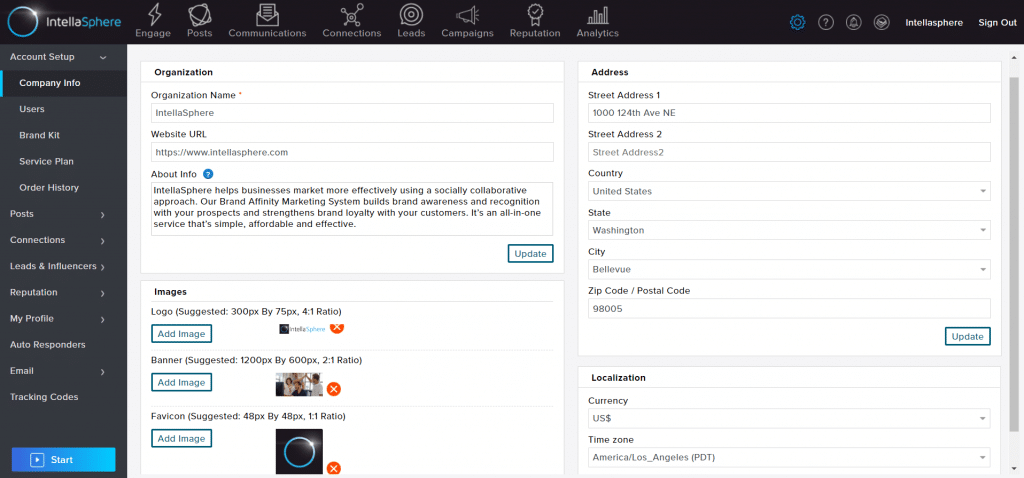 Enter your company name as you would like to display it on communications.
OPTIONAL Add a company website URL and some "About" text, which will be included in the materials you create, saving you time.
OPTIONAL Add your company address to be included in your marketing content.
Add your marketing images.
OPTIONAL (but recommended) Upload your logo.
HINT: The logo can be square or rectangular. We recommend a height of 300 px. If you don't have access to your logo, no worries—your company name will appear at the top of your marketing content. You can add your logo later.
OPTIONAL (but recommended) Upload a banner image.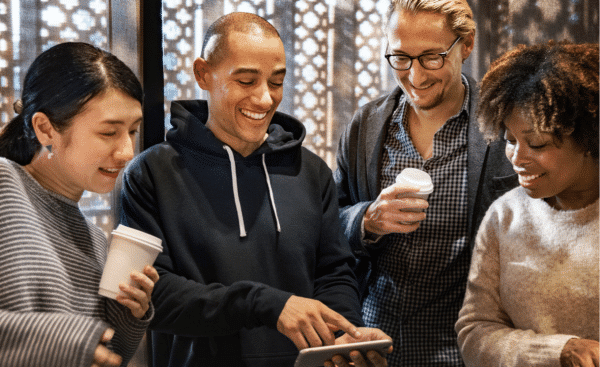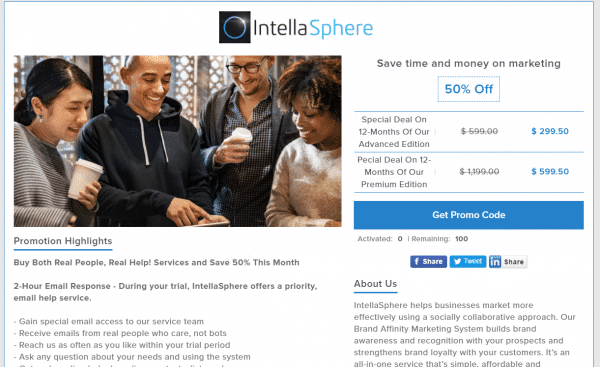 HINT: The banner image is the default picture that shows up across the top of your offers, events, polls, newsletters, feedback forms, and other content. For best results, use an image that is 1200px by 600px (see example here).
OPTIONAL Add a favicon.
HINT: The favicon is what displays in the address bar or on tabs when a customer opens one of your engagements or marketing messages in their browser. The favicon should be a small, square image, typically showing your logo. If you don't have access to your favicon, no worries. You can always add it later.
OPTIONAL Go to Settings and add additional users (i.e., coworkers, managers, content writers, marketers) who need access to your IntellaSphere account (Settings > Account Setup > Users).
HINT: New users will automatically receive an email invitation to sign-up for and use IntellaSphere. They will be prompted to create their own IntellaSphere ID and Password which they can use to access your IntellaSphere account.
OPTIONAL Set up your Brand Kit (i.e., your standard colors and font styles used in your marketing materials). (Settings > Account Setup > Brand Kit).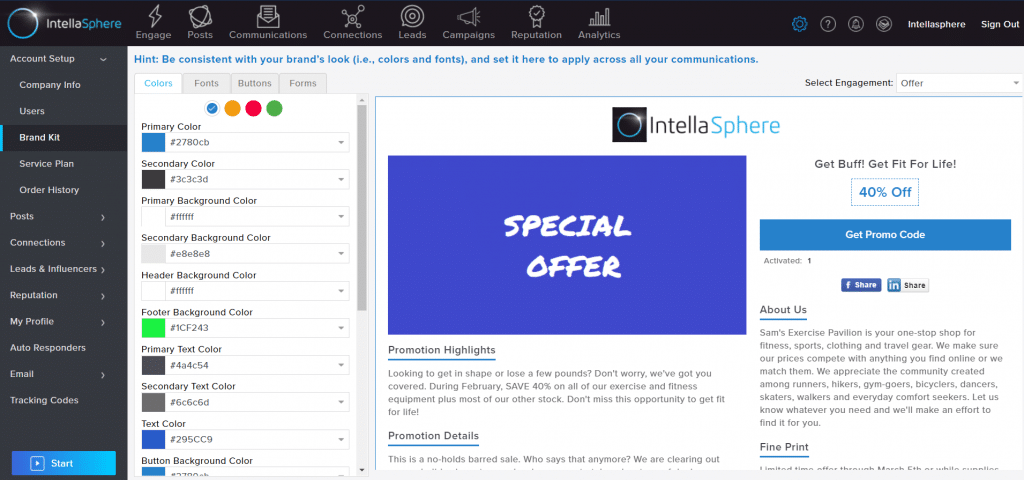 HINT: Using the Brand Kit, you can easily style all your communications by setting default colors, text styles, and formats. Don't like changing colors? The Brand Kit comes pre-configured with our standard blue presets.
Connect your Social Profiles, Blog, and Services (Settings > Posts > Profiles).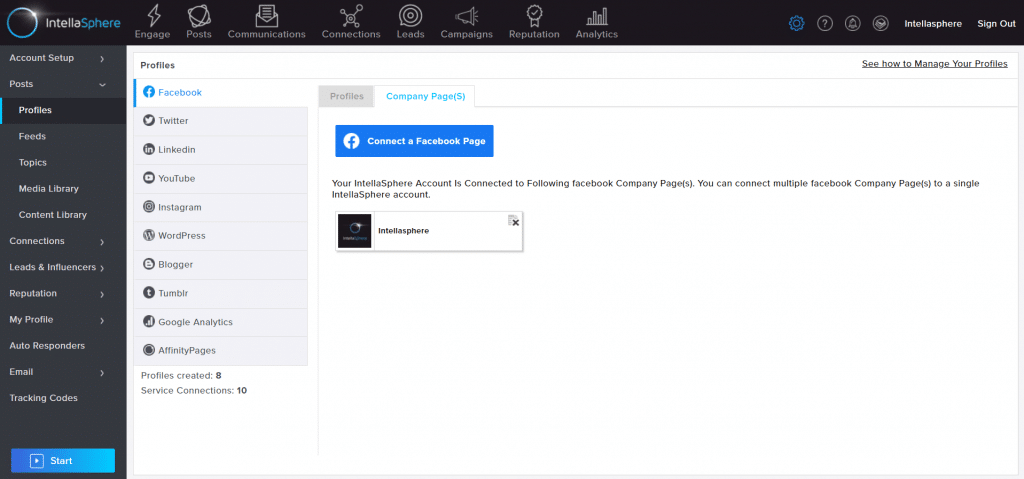 HINT: Currently, you can connect accounts on: Facebook, Twitter, LinkedIn, YouTube, and Instagram, as well as WordPress, Blogger, and Tumblr blogs. Here, you can also connect your site's Google Analytics. Minimally we suggest that you connect 1 or 2 social profiles, your blog (if you have one), and Google Analytics. Note that you will need to have IDs and Passwords available to connect your IntellaSphere account to these services.
Add a sender email address (Settings > Email > Sender).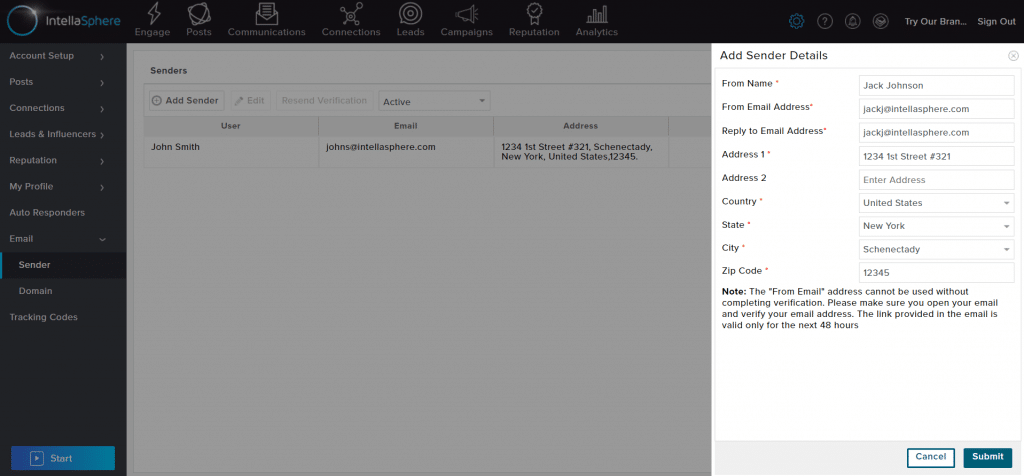 HINT: Currently, you can connect accounts on: Facebook, Twitter, LinkedIn, YouTube, and Instagram, as well as WordPress, Blogger, and Tumblr blogs. Here, you can also connect your site's Google Analytics. Minimally we suggest that you connect 1 or 2 social profiles, your blog (if you have one), and Google Analytics. Note that you will need to have IDs and Passwords available to connect your IntellaSphere account to these services.
Verify your email. You will receive a message in your inbox with an activation link that is valid for 48 hours.
Try sending some emails—you can always send yourself a test email before distributing to your audience. You can distribute an Engagement, send an individual message, or create a targeted campaign with a series of communications.
Monitor Your Online Reputation
Make sure you connect a Twitter account (Settings > Posts > Profiles). Twitter is a key platform for people to discuss your brand.
HINT: Keep an eye out as we work to add additional channels and feeds to help you better monitor what people say about you. If you feel there's a channel that is important that we're not monitoring, let us know!
Enter your Brand name and unique identifiers (Settings > Reputation > Mentions).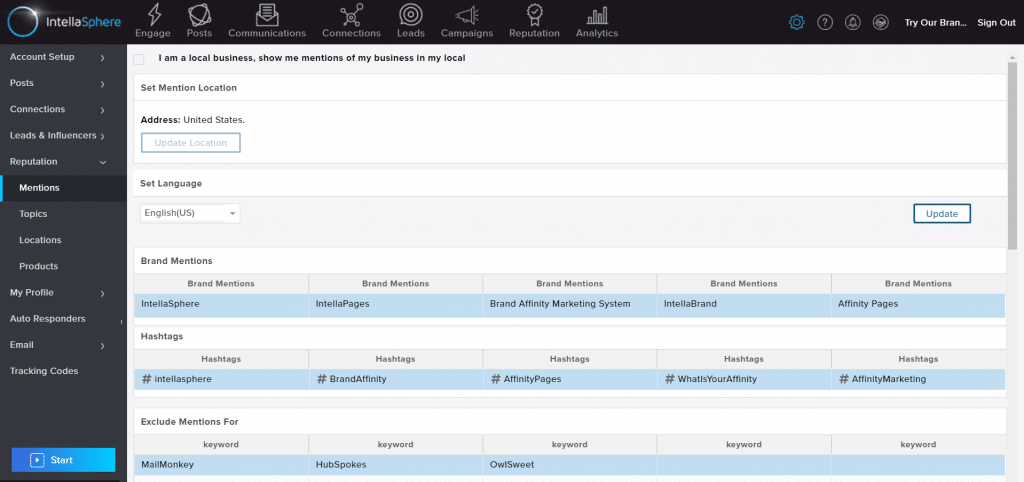 HINT: You can enter up to 5 unique brand identifiers specific and unique to your business, such as your company name, unique product names, trademarks, or the name of the owner/CEO. You can also add up to 5 company-specific hashtags, as well as a list of keywords to exclude/filter out.
OPTIONAL Set up Topics, Locations, and Products in Settings (Settings > Reputation) to be able to tag mentions, and see what your customers say about specific elements of your business.
HINT: Use Topics to identify characteristics of your product or service which people might mention in a review, and which you'd like to monitor. For example, you might add "timeliness," "quality," or "cleanliness"—if you have a physical location. You can use Location to identify branches, service areas, websites, or even employees referenced in reviews if you have multiple outlets through which customers do business with you. In Products, we recommend you add your major offerings, i.e. products or services. These steps can help you categorize your brand mentions, identify your areas of strength and weakness, and see over time how effective efforts to improve are.
Visit the Reputation Lab to see your most recent mentions.
OPTIONAL To see quantitative measurements for how your online reputation is changing in the Analytics Lab, make sure you regularly check on new mentions and rate them out of five stars.
Auto-generate Online Lead and Influencer Prospects
Make sure you connect a Twitter account (Settings > Posts > Profiles).
Enter your keywords of interest (Settings > Leads & Influencers > Keywords).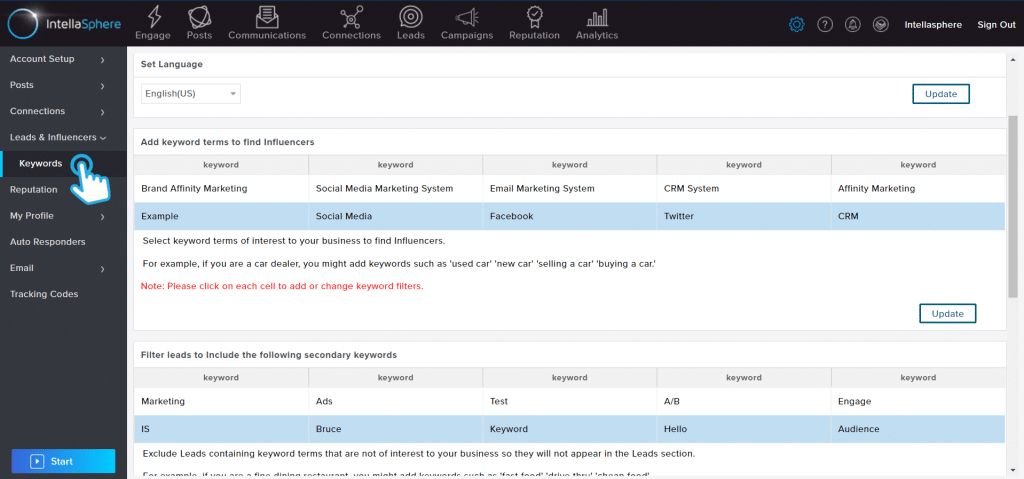 HINT: You can enter up to 10 primary and 10 secondary keywords. Based on these keywords you will be shown a feed of profiles which relate to or talk about your topics of interest.
Find your updated list of potential leads/influencers in the Leads Lab.
HINT: By default, new prospects are added as "New Influencers," from where you can move them through the Influencer pipeline, contact them, save them as contacts, or transfer them to Leads.
Congratulations! You're done setting up the key elements of your account—now it's time to start marketing with IntellaSphere!
Try an Engagement
Head to the Engage Lab, and take a look at the available Engagements.
HINT: There are currently 10 engagements. Offers are great for announcing deals, displaying promotions, showing off products, or otherwise exhibiting a product or service. Events can let people know about physical or online events, from a concert to a week of promotional pricing. Promoter Sign-up is a form through which your fans can sign up to be your Brand Promoters, agreeing to share your important updates and Engagements. Polls and Surveys are a great way to collect interact with your audience, collect their opinions, and do market research. Business Reviews and Feedback allow you to ask customers for feedback on how you're doing. The Newsletter allows you to collect your important promotions, content, and Engagements to share with your subscribers. Newsletter Subscription and Contact Us (lead gen) forms allow you to collect the emails and info for mailing lists and follow-ups.
We will start with an Offer. Click "Reuse" on the sample made for you.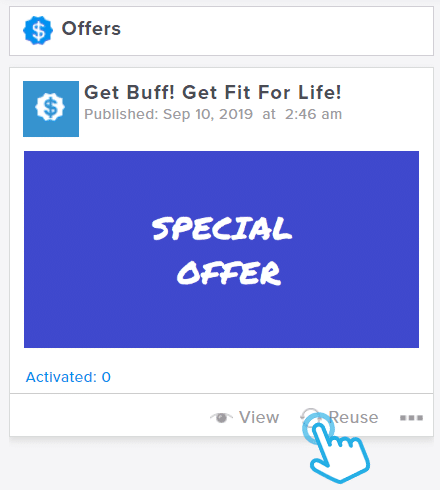 HINT: You can always reuse your Engagements— when you do this, the information and settings from the original will be pre-populated into the new Engagement's fields, saving you time.
First, try changing the Promotion Headline. You can name the Offer whatever you want!
Change the Discount Type to a different one, like "Cash savings." There are several types available, which change the format of the Offer depending on the selected type.
Next, try changing the Promo Code and redemption settings.
HINT: You can choose whether to include a promotion code and the code type (you can provide one, or we can generate code(s) for you). You can also limit the number of activations possible, decide whether to collect emails/phone numbers, and change the text on the action button. This way, the Engagement is always tailored to the needs of each specific promotion you run.
OPTIONAL Add a few products to the Pricing section to show your customers your available selection for the promotion, and to see cash/percent discounts reflected on each item's price.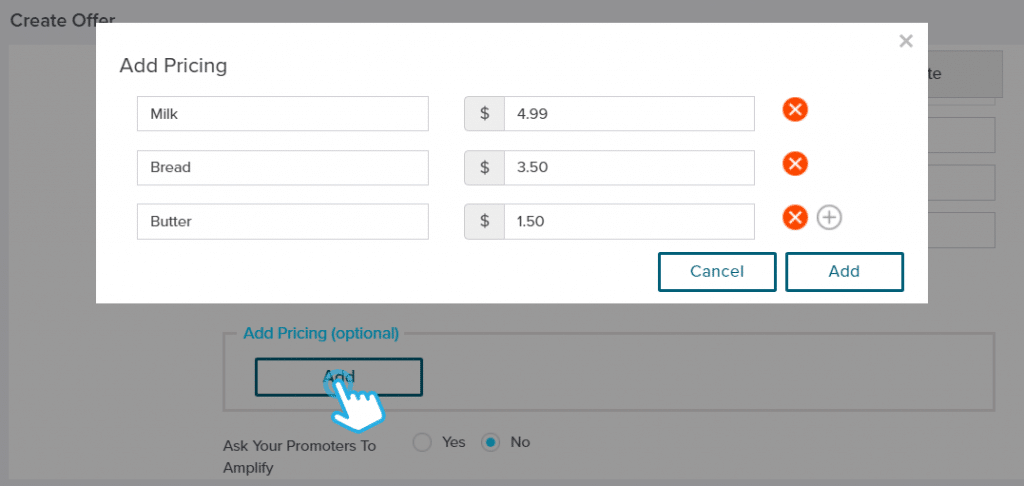 To see what your Offer looks like now, hit Preview on the bottom right of the window. You can view your Engagement as a landing page, email, or social media post, on both larger and smaller screens.
Once you are done admiring your work so far, close the preview window, make any changes you prefer, and click Next to go on to the next page.
Select a different Banner Image for the Offer.
HINT: As with other Engagements, the image will look best if it is 1200px by 600px. If you don't have an image handy, make one with the built-in, easy-to-use Canva designer widget. Just click Add Image, and then the Design With Canva button on the lower right. With Canva's drag-and-drop interface you can quickly create attractive graphics—no design skills needed!
Edit the Banner Text, Promotion Highlights, and other details. Here you can convey all the important info about your promotion, products, and business to your customers. Don't forget to preview the Offer as you make changes!
HINT: Want to use different section headings other than "Promotion Highlights," "Fine Print,* and others? No problem—you can rename them on the next (Add'l Info) page, in the Advanced Settings section under Section Titles
Proceed to the next page, where you can decide whether you want the Engagement to go live immediately, if you want to schedule it for the future, and when you want it to expire. The landing page for the Engagement will only be accessible while it is active, giving you full control.
OPTIONAL Try experimenting with the Advanced Settings.
HINT: Advanced Settings let you really make each Engagement unique by customizing branding elements (maybe you want to reference another company in the branding or use a seasonal logo version). You can change what shows up when you share the Engagement over email or social media, override the Brand Kit to change the color scheme (who doesn't love some festive seasonal colors during a holiday, which happens to be a great time to offer a promotion!), or rename the Engagement's text sections.
Once you're done, Create and Distribute the Engagement. This will make its landing page available online, and allow you to distribute it over social media and email, as well as to generate code allowing you to painlessly embed it in your website.
Great job, you've created your first Engagement! The process to set up other engagements follows a similar format, allowing you to easily and quickly engage with your customers, while making it possible to customize every aspect of the communication to suite your business needs.
Manage Your Social Media and Make a Post
Make sure you have connected at least one social media account (Settings > Posts > Profiles).
Visit the Communications Lab, where you can see all the notifications from your connected services.
Visit the Posts Lab (the first time you do so the loading might take a little while, so please bear with us). Here you can see all of your social channels, the posts you have made, and your specialized feeds.
OPTIONAL In settings, set up keyword filtering for your Social Feeds (Settings > Posts > Feeds). This will help keep the posts from your network which you see in the Social Feeds tab relevant, making it easy to interact with your audience online and to boost your profiles' engagement.
Let's create a new post: from the Posts Lab click on the blue Create button on the top left, and select Create Post.
HINT: You can create posts which are text-only, photos, videos, or formatted blog articles.
Select which profile(s) where you want to post. Currently, you can post to Facebook, Twitter, LinkedIn, and your blog.
Add some content. Type in some text, or attach a media file.
OPTIONAL Want to include a link? Place it into the built-in Link Shortener to make it appear more professional, and to include any parameters (e.g. UTM parameters) you need for tracking purposes.
OPTIONAL If you're not ready to post now or want to set up your content in advance, you can schedule the post for a later date/time.
OPTIONAL For better internal tracking and to help you stay organized, you can label your posts with Topic tags (so you don't accidentally bore your followers with three posts in a row about your cat), geo targets (this is helpful to know if you work in multiple markets using different channels and strategies), as well as general notes (never forget to add that picture you went to retake or to look up how to spell that word before your post goes live again).
Preview your post, then Submit to see it go live!
Bravo! Now that you are practically an Intella-Expert, you are ready to take your marketing to the next level with IntellaSphere! Once you finish sharing the news of this praiseworthy achievement on all your social accounts, you'll be ready to Engage, Post, Communicate, Connect, and more like you've never done before!
If you want to explore more information, IntellaSphere | Learn offers a number of great articles and FAQs to help you use the system like a pro. If something didn't work, or you feel like you need more help, feel free to reach out using the contact form on the bottom of the main Learn page or email us at support@intellasphere.com and we'll do our best to help!