Some 80 percent of consumers are more likely to do business with a company that offers personalized experiences.
You may have missed how personalization impacts sales! Businesses should expect consumers who find personalization "very appealing" to be their best customers by far. Plus consumers who rate businesses as doing "very well" on personalization will shop there three times more frequently than places that don't measure up.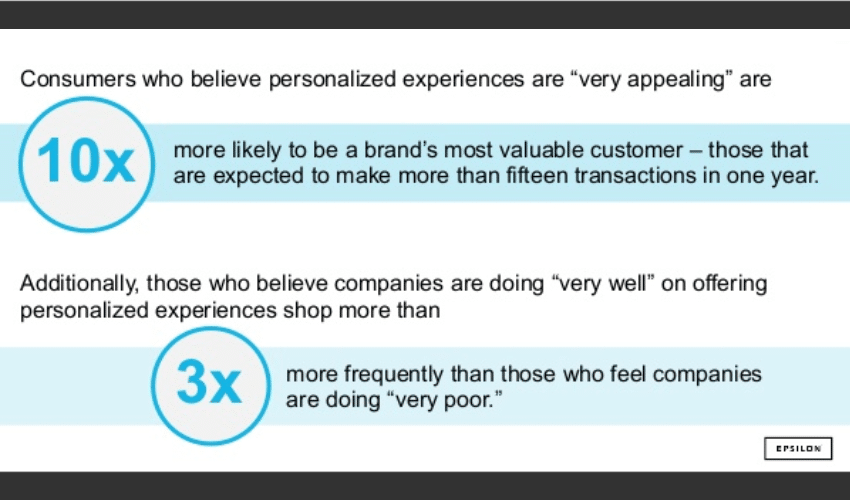 However personalization has never been entirely clear to us. Does it mean helping shoppers with suggestions, whether online or in stores? Does it mean knowing what to offer based on knowledge of the shoppers themselves? And does it mean analyzing reams of shopping and buying data, in real time?
We discovered what personalization means from 1,000 consumers.
32% say customization: "It means it's something suited to me exactly so that I'm more likely to be interested in what they are selling."
32% say service: "It means that the company will know what you want, your likes and dislikes and make sure you have what you want."
16% say discounts/offers: "They offer personalized offers, products and coupons that meet your needs and are items you typically buy."
8% say specific products/services: "Dedicated shopping assistant, order puller – have the order ready. Curb service, disabled entry doors."
7% say convenience: "It means noticing how I shop/surf the internet and customizing advertising and shopping options to my preferences."
Our take? Digital marketing should let you create personalized touches. It's now possible to reach out and get feedback online from consumers, which increases customization and service. Plus discounts and offers may be distributed efficiently through email, social and web channels. Specific services and convenience are possible too, depending on what you sell.
Personalized or customized service may get delivered through digital marketing. It's not the sole province of big brands anymore. #PersonalizeSMBs
by Debby Richman, Jan-13-2019