We're pretty sure you know Groupon. Have you considered using this channel?
Today analysts predicted the giant coupon company will report $2.63 billion annually in sales, a drop of nearly 10 percent. Their U.S. coupon business is shrinking quickly, down 17 percent in the last quarter. Despite these results, Groupon has expanded from discount coupons to linked credit-card deals — and both options could help you and your customers.
Discount With Care
When you advertise with Groupon, it's important to consider your discount carefully since you'll also pay a 50 percent commission when it gets redeemed. One survey revealed that 32 percent of merchants said they lost money, and over 40 percent won't run an offer again. Despite these experiences, the economics might work in your favor and many local services report success.
Restaurants using Groupon+ now offer deals that consumers claim free, for later use. When they dine, their linked credit cards are charged at the full price and also rebated 30 percent. More deals are getting rolled out for entertainment and food services, and Groupon will expand merchant categories and loyalty deals this year.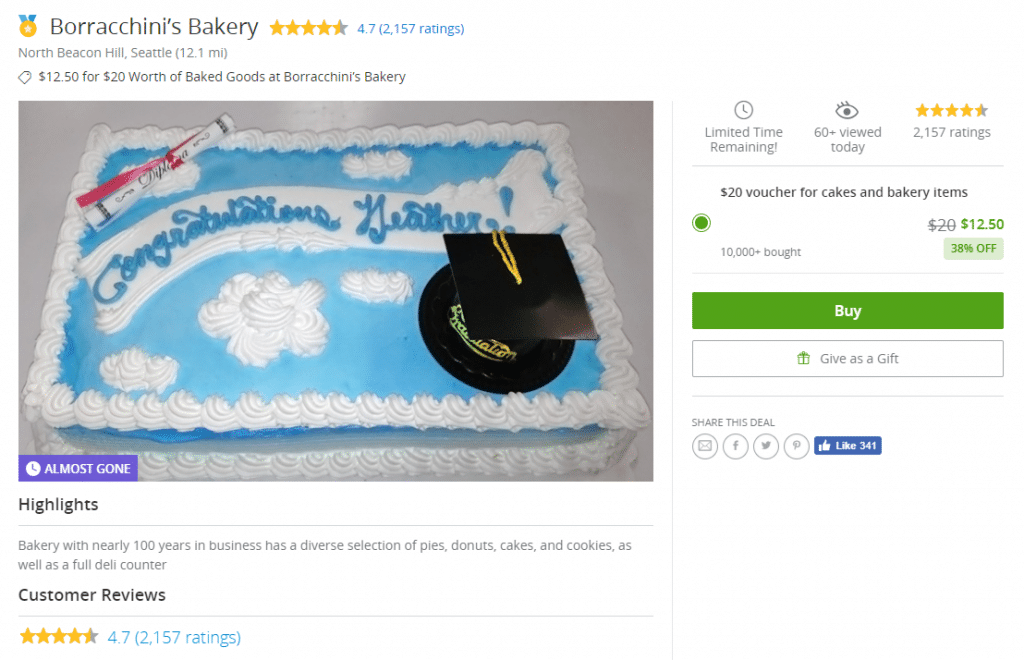 We see that Borracchini's Bakery, based in Seattle, seems to have received some Groupon love and success with 10,000+ items bought! We'll let you decide whether to promote through Groupon, by considering major pros and cons:
PROS
Free advertising for businesses — There are no listing fees for businesses, and you are able to advertise your products or services free on the Groupon site or app.
Increased customer acquisition — With the impressive array of discounts, Groupon attracts high consumer traffic. It's important to prepare for the flow of new customers, based on your deal.
Building customer relationships — You should plan how to attract new and repeat customers. Rather than offering 50 percent off any service, for example, bundle 25 percent off the next three visits.
CONS
Deals may not be profitable — Don't discount too much! Understand the costs of running your business and/or acquiring inventory before creating your offer, and also include your Groupon commission fees.
Super deals don't generate repeat business — Most consumers realize your discount is available for a limited time, and you might attract some deal-hungry, one-time hunters who never return.
Keep diminishing returns in mind — Offering higher discounts while seeing lower rates of spending/return is a recipe for disaster. Remember to put a cap on the number of deal coupons to be sold.
Will Groupon help you find new or repeat business? Look at your costs and offer discounts you can afford. #MERCHANTSMARTGROUPON
by Amanda Worrall, Jan-22-2019