Intellasphere provides numerous ways for you to reach out to existing and potential customers and provide them with actionable ways to interact with your business, driven by interactive communications and promotions we call "Engagements."
In addition to crafting new engagements, you can also Re-use engagements which have already been created (to help you get started, we made examples you can experiment with).
Just click Re-use under one of your engagements and the information from the original will be pre-populated into the fields, saving you time.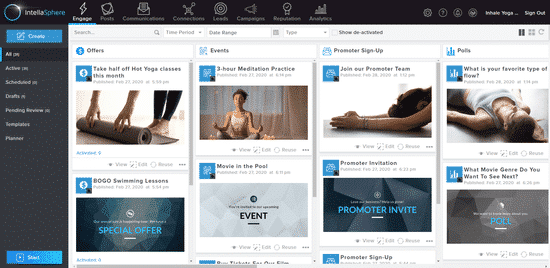 Or, start fresh click and click on Create to find the ten default engagements:
Offers
Events
Polls
Surveys
Business Reviews
Feedback
Newsletters
Newsletter Subscriptions
Promoter Sign-up
Contact Us Forms
You can distribute any engagements through email, social media and/or web embeds.