Let's dive into exactly how to encourage your patients to leave a Google Review.
You may want to review a few prior articles, as it's important to understand online reviews and capture patient testimonials to grow your medical and dental practice.
Below are the simple steps to follow to get your patients leave a Google Review of your practice:
Search
First, ask your patients to search for your practice's name in Google from their device's browser app. Then, they should click on your practice's name.
Select
After clicking on your practice's name, your patient will need to scroll down until they see a section labeled "Write a Review". Once this is select they are linked to the Rate and Review page where they can select their star rating.

Write
Now, they should click on the "Rate and Review" link. After clicking on that, a pop-up would be come up asking the patient to sign-in their Google account (Gmail). For Android users, generally, they are already logged-in with their Google account as android devices require users to create a Google account during their device setup. While for iPhone users, they should make sure they allow pop-ups in their settings.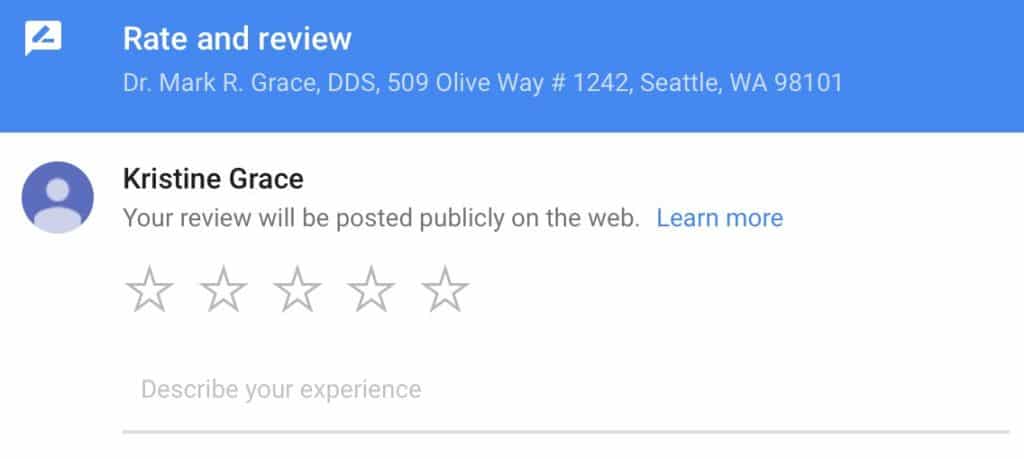 Submit
After this, Google will take your patient to the actual place where they can leave an online review. Once they write their review, they should click on a post which is visible on the top right corner of their device screen to submit their review.
See how simple the process is. Hope this review was helpful for you to guide your patients to leave a Google Review for your healthcare practice which proves very beneficial in terms of medical marketing and dental marketing and will help grow your practice.
For more such interesting and helpful information for your healthcare website relating to digital marketing for healthcare providers, feel free to contact me – Kristine at KristineG@IntellaHealth.net.
by Kristine Grace, Mar-6-2017