Anyone can invite "promoters" with the IntellaSphere system! We'll help you get set up so that you're ready to start amplifying your marketing communications.
First, set up a campaign you want to promote.
Choose a goal: traffic, leads, sales
Create a promotion
Distribute across all channels
After you log in, head to "Engage" and see all the default templates. Have an offer or event? Select the template for it, re-use it, change everything and hit create! It can look like your own if you upload an image and decide to change colors and more.
Once you've communicated your promotion and it's live online, you can ask your influencers to help you spread the word.
How to invite Brand Promoters:
Invite supporters, fans & followers.

To invite promoters, head to "Engage" and click on the "Promoter Sign Up" template. Customize the image and message, then distribute the invitation on your social pages and to any email list. Anyone who signs up from this web form will be automatically added to your Brand Promoter list, inside "Connections."
Watch our video: How to send a Promoter Invitation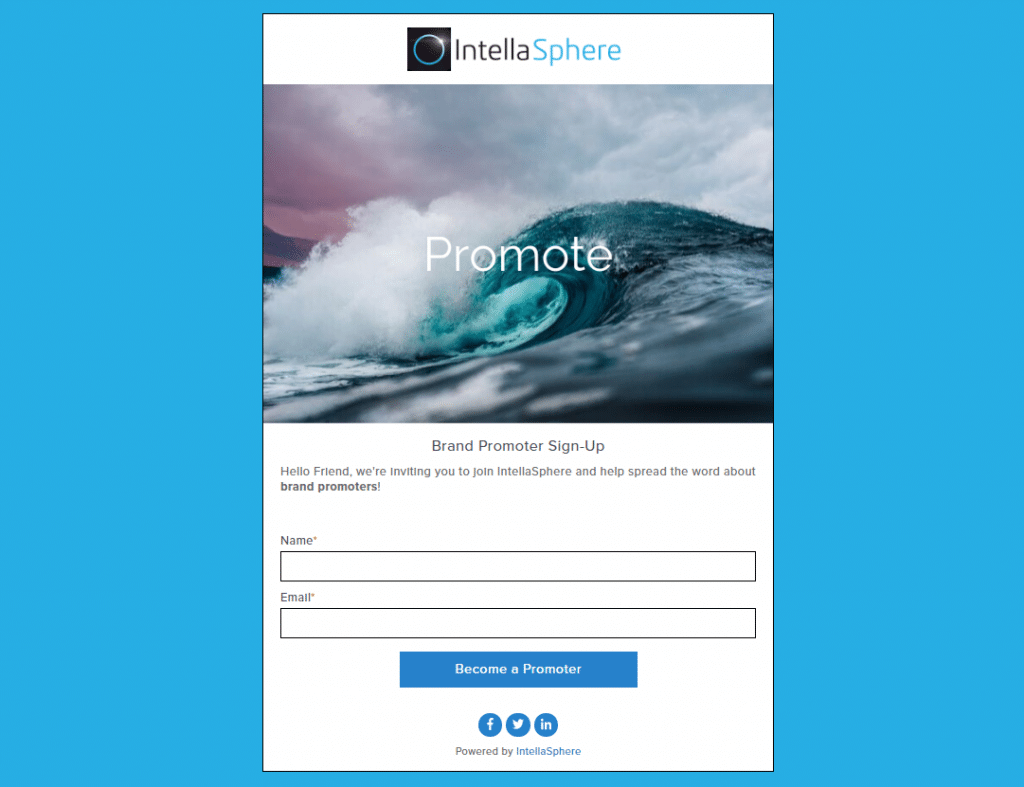 Once you have even one promoter in your Brand Promoter list, you can start amplifying your content.
Tip: Ask friends & family to be your promoters! Why not?
Amplify in one click.
Notice the "Amplify" option beneath each of your marketing activities in "Engage" and social posts in "Posts." If you select amplify, the promoters from your list will be notified and asked to react to and re-post your content. To get the most out of the amplification functionality, always distribute your content socially first — so you can later socially amplify it!
Watch our video: How To Alert your Promoters
Spread the word about your communications.
Promoters help boost engagement on your social sites and spread your marketing activities to their communities.
Don't forget: Never SPAM your promoters! There's a 1-hour timer on the Promoter Alerts they'll receive, so if you have multiple things you want to amplify, be sure to PLAN AHEAD and send them within the same hour.