Stay on top of the ever-changing digital marketing arena
Yes, Twitter can be good for your search. Twitter and Google play together. You are likely aware that tweets appear …
IntellaSphere's latest post, no click required
Lots of marketers probably relate to these two statements: I'm looking for new sources for business leads. And, LinkedIn and Google have become too costly or unproductive.
If you relate, there's one other channel that should be on your radar.
Conventional wisdom says Facebook is where consumers connect, yet some of these people are B2B prospects hiding in plain sight.
Maybe you've even tried boosting posts or advertising there before, without much luck, to your friends and others like them.
But have you taken advantage of Facebook's wide range of interests? You can easily test different targets and control ad spends there. And of course, the key is to focus on lead generation.
According to a recent Chief Marketer survey, 84 percent of businesses rank LinkedIn and 43 percent of businesses rank Facebook among their top three most effective social media channels.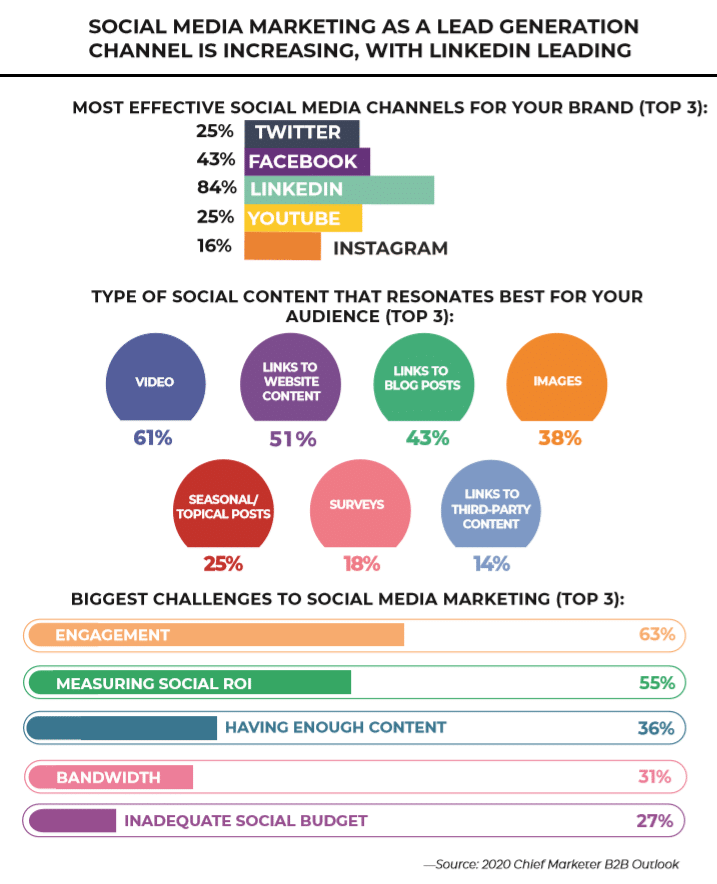 Let's start with your Facebook page
As a business manager or marketer, we're sure you have created a Facebook page, posted occasionally and perhaps attracted some followers.
Before your advertise, make sure your page is updated: the company banner, description and even a few recent posts can help. We suggest topics related to your customers' experiences and occasional news about your product or service.
Now you're ready to attract prospects, who may visit this page after seeing your ads. If they like what they see and decide to come back later, they could potentially transform into additional leads, contributing to a "halo" effect that's not directly tracked from Facebook ads.
Try this advertising "taste test"
Don't get wrapped up in endless Facebook metrics! You're trying to get leads, and this means driving visitors to your website and your contact, aka lead gen, form. [If you're brand new to Facebook ads, then start here.]
Here are six powerful tips for your Facebook test:
1 | Start with a very small sum
We mean very small, maybe $10 daily to start. After the ad starts running, let's say you reach 10,000 impressions over five days.
If one percent clicked (100 people) and only five percent completed your sign-up or lead form (5 people), you paid $10 per lead. When you start new campaigns, Just enough to pass judgement on whether those leads matter to you!
2 | Select interests first
Take a practical approach when picking your targets. Are there specific interests that relate to your functions, disciplines or type of business? Do you want to reach followers of digital publications or company pages?
Example: You sell face cream online and in salons. The U.S. salon FB audience includes consumers (70 million), which you would filter by additionally targeting "health & beauty page administrators" for your test (300,000).
3 | Test nationally
Unless you're a local business, where you should select your city or service area, please test nationally!
If you offer services more broadly, you might at some point be tempted to test locally, maybe in major cities near you, because you're nervous about being a little fish in the big pond.
We advise testing throughout the United States, even if it feels like you're barely making a splash. It will help you get a better read on your targets by reaching more people, this is key when exploring new interest groups.
The end goal is to maximize how many people see your ad (reach) and how often they may see it (frequency).
4 | Tell a story
While you may hear plenty of advice about creative, we think telling a story is what makes Facebook (and Instagram) useful. So that when people come across your pages, who were not looking for you intentionally, they'll still get engaged anyway.
Use the carousel option in ads, where you can encourage swiping to introduce yourself, describe products, offer advice, display customer reviews, or share what you feel prospects should learn.
5 | Make sure you drive action
Remember to have a clear call to action in your ad, or reason for people to respond. Are you promoting some product, service or deal for a limited time? Are you holding an event? Or do you want the audience to sign up for more information, i.e. newsletters, e-books, etc.?
Pick your action button with care. Facebook offers a range of them, from the stronger Buy Now or Sign Up to a softer Learn More option.
6 | Don't give up
It's easy to throw in the towel, after an initial test. But don't be hasty, you need to change targets and see what happens, or adjust your ad's offer or content. Keep in mind what your leads would want to see, rather than running a popularity contest when choosing your creative and text.
Set aside a small test budget to keep trying things. If your economics look promising, then you may join the 43 percent of businesses who feel that Facebook delivers leads.
by Amanda Worrall, Jan-17-2020